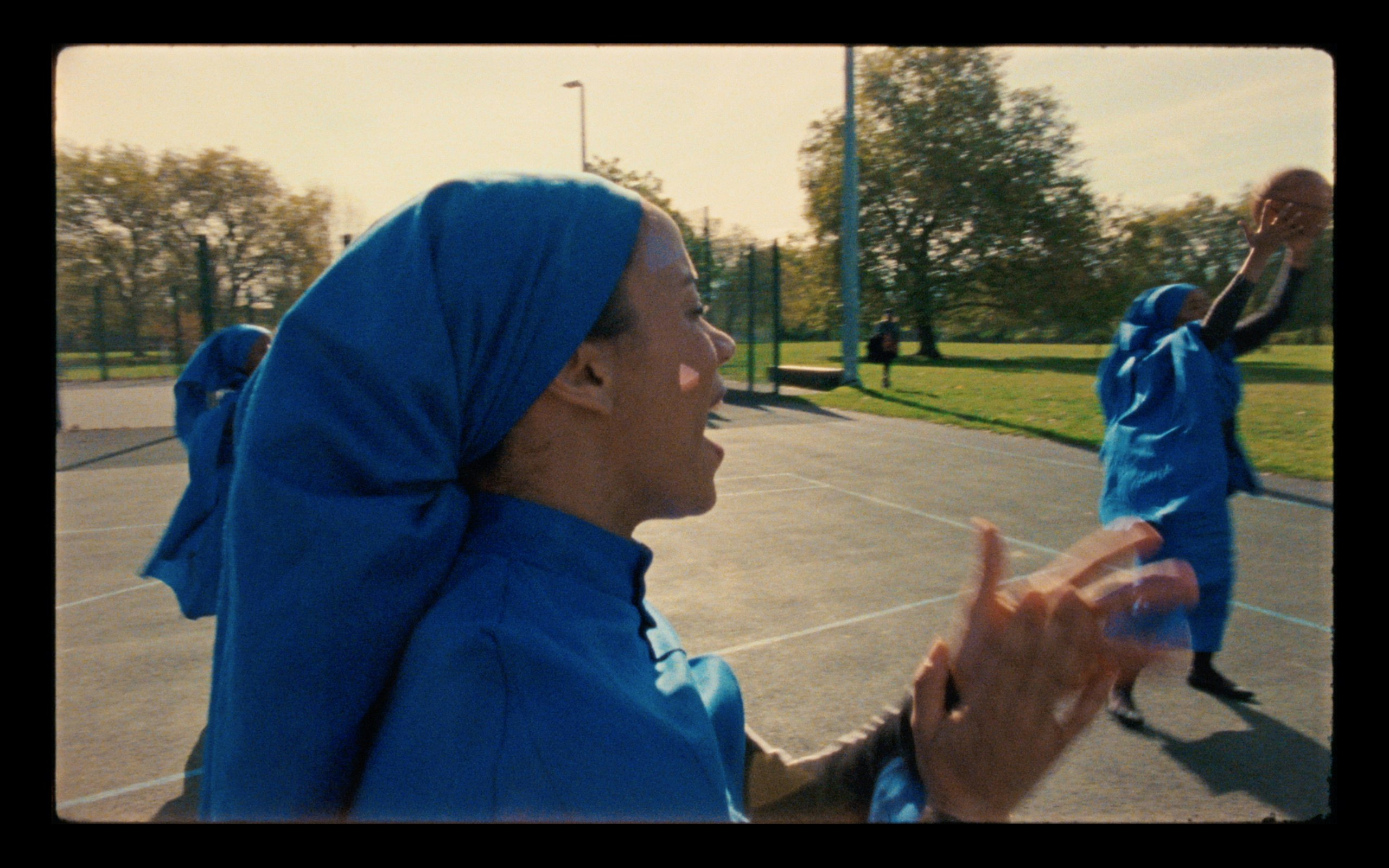 Simona is a Romanian - British cinematographer based in East London. She's an alumna of The National Film and Television School UK and UNATC Bucharest. Early on, Simona was mentored by Vilmos Zsigmond ASC at the Budapest Cinematography Masterclass and Brian Tufano BSC, during her studies at NFTS.

She began her career as a DOP in Romania and transitioned to London, where she's been working for 7 years across narrative fiction, documentary, commercials, music videos and art films.
Simona shot and lit "AUDREY", a feature length creative documentary about the iconic Hollywood star, Audrey Hepburn, the first biopic ever made about the movie star at this scale. The film uses dance to narrate Audrey's life and features Alessandra Ferri and Francesca Hayward as Audrey, under Wayne McGregor's choreography. The film was produced by BAFTA nominated Salon Pictures and Universal and it has been released by all major VOD platforms such as Amazon, Netflix and Apple in USA, Europe and Australia.
In 2021, Simona wrapped on her first fiction feature, Up of the Roof, starring Natalia Tena and Piotr Adamczyk.

Simona was awarded Best Cinematography at the 2019 BAFTA Qualifying Underwire Film Festival, for the hybrid fiction - doc short film "And it was the same with my son".

She also earned an Emerging Cinematographer nomination from the British Society of Cinematographers, for her work on the short film Isha. Isha premiered at the 2018 BFI London Film Festival, received numerous nominations for best short film (Outfest, Frameline, Encounters) and two awards at Sicilia Queer Film Festival.
Nowhere, a short commissioned by the BFI, shot on location in Israel and by the border with West Bank is currently in the festival circuit and had its premiere at 2021 Frameline Festival in San Francisco. Simona also wrapped on her first horror short film, Blood Rites, produced by the BBC, based on the short story by Daisy Johnson and directed by Helena Coan. The short film stars Ella-Rae Smith, Mirren Mack and Ellis George.

Simona's focus as a cinematographer is making character driven narratives and cross genre stories come to life and finding the particular visual language suitable for every script, merging the narrative with the visual in a seamless way. She's heavily influenced by European cinema, particularly Eastern, as well as American independent cinema. She has developed a strong aesthetic drawing from her fine art, analogue photography and cinematography practice. She's now studying music and drumming.

Her work has been screened at Oscar and BAFTA qualifying festivals word-wide, shown in galleries and museums in Europe, USA and Australia and nominated for a Turner Prize in the UK, in 2018.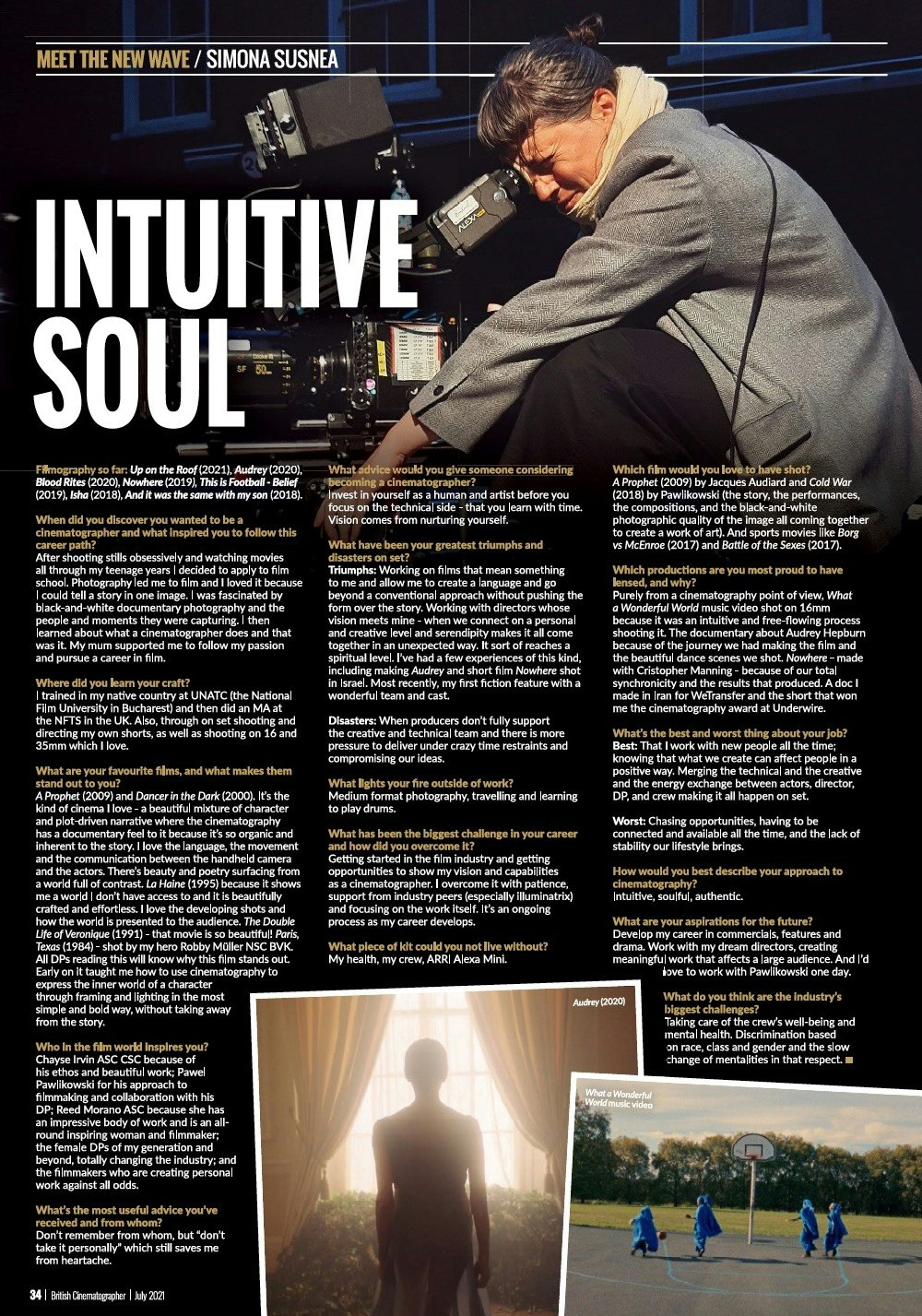 ___

RECOGNITION:

2021 The Drum Awards - Campaign of the Year - Unseen Kingdoms Campaign for The Body Shop

2020 Berlinale Talents Alumna

2019 Cinematography Award, BAFTA Qualifying Underwire Film Festival, UK - "And it was the same with my son" Short Film

2019 Emerging Cinematographer Nomination by the British Society of Cinematographers


2018 Cinematography nomination, Oscar Qualifying Hollyshorts, USA - "Late" Short Film
2018 Cinematography nomination, BAFTA Qualifying Underwire Film Festival, UK - "Late" Short Film

2018 Turner Prize nomination - Tate Britain Exhibition - Cemetery of Uniforms and Liveries art film, 16 mm, artist Luke Willis Thompson.


2017 Cinematography nomination, World Cinema Int. Film Festival - One in a million short film.

2016 Sarajevo Talent Campus Alumna - Sarajevo International Film Festival
2015 Emerging Cinematographer Nomination by the British Society of Cinematographers

2011 Budapest Cinematography Masterclass Scholar
2011 Kodak Film School Cinematography Competition - National Winner - Romania.
2010 KODAK Cinematography Award for a Romanian Short Film - "Smoking may kill", 16 mm, black and white.

2010 UNATC Photography Award, Bucharest, Romania